Website Development: WordPress
2 Days/ $470
At the end of the 2-day course, participants will be competent to manage a WordPress website and create a new impressive site of their own!
Programme Objective
In this 2-day WordPress course, you will learn the basic 101 of WordPress management.
The key learning outcomes for this course include familiarizing with the WordPress dashboard and the key features i.e. creating and publishing content and basic optimization for search engines.
This is a mainly hands-on session as learners will be allocated a WordPress site to practice.
Programme Outline
Module 1 Introduction to Wordpress • Why Choose Wordpress • What is Content Management System • How to Register a Domain & Web Hosting • How to Install WordPress
Module 2 Navigating Wordpress Dashboard • Posts, Pages, Media and Settings • Permalinks • Managing Comments • Hands On Practice
Module 3 Wordpress Content Management • Creating Posts and Pages • Adding Image and Gallery • Embedding Media (Youtube, Google Map) • Creating Contact Forms • Creating Maps • Managing Widgets • Managing Elements • Hands On Practice - Publishing Content for a Website
Module 4 Menu Management • Creating Menu Items • Adding Content to Footers • Configuration of Sidebar • Hands On Practice
Module 5 Plugin Management • Installing Essential Plugins • Evaluating Plugins • Updating Plugins • Plugin Configuration • Critical Security Plugins • Hands On Practice - Install and Configure Actual Plugins on Website
Module 6 Themes Management • Buying Themes • How to Evaluate and Buy Quality Themes • Theme Installation • Configuring Theme Options • Hands On Practice - Install and Configure A Theme
Target Audience
Business owner/Entrepreneur who wants to manage own website
Website administrator for a company
Web designer who wants to develop a new skill
Internet Marketer
Training Methodology
Set-up WordPress, download Plug-in, hands-on exercise such as website creation, posting and linking
Programme Facilitator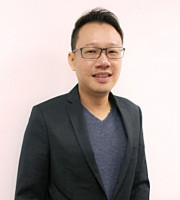 Samuel is the founder and director of a website development and marketing technology firm. Crafting beautiful and easy-to-use website has been Samuel's passion and profession for the past five years.